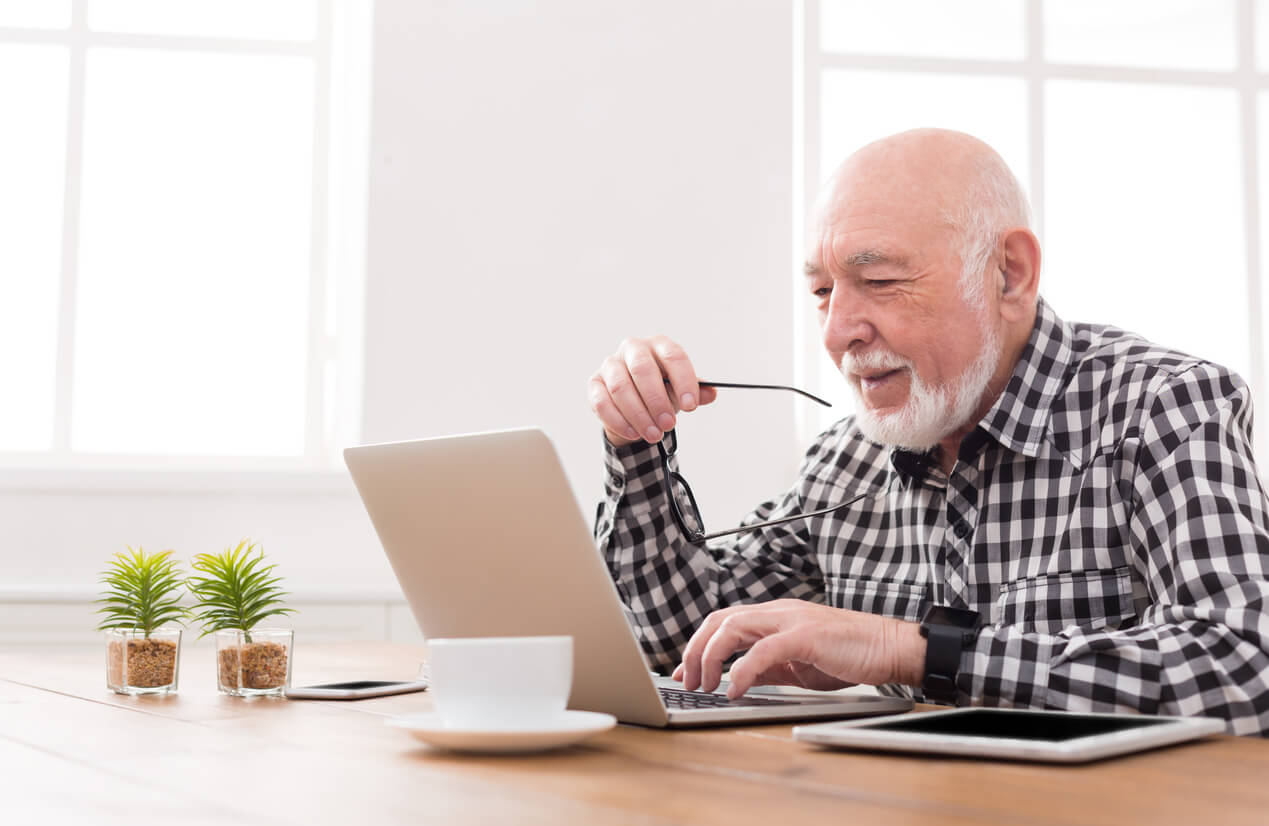 There's no denying it, technology is now ingrained in the lives of billions of people around the world. Every year there's more and more technology, and while many may see it as a daunting task to try and learn and keep up with it, doing so will help to make things simpler and connect you to the people you care about in ways you may never have thought imaginable.
Health and Safety Assistance
Certain pieces of technology can become a lifeline if you ever need it. There are now devices that can accurately detect falls, much better than their predecessors. The devices can be worn as a belt, necklace, and even a watch. Using advanced technology, the device can detect when a senior falls down, and then alert its home module, which will send for help if the senior in question isn't back to standing within a certain amount of time, or if they haven't pushed the cancel button. With seniors being at such a high risk of falling, and the severe consequences that can arise from such a fall, these devices can reduce the amount of time it takes for help to arrive in a dire situation.
Smart watches are a relatively new product that have lots of features that could benefit seniors. There are many different types of brands and styles, but for the most part a lot of them carry similar features. Of course, a smart watch has normal watch features, like a clock, alarms, and calendar, but it's much more advanced. You can set multiple alarms, actually view a calendar on some models, and see numerous styles of watch-faces. One of the most commonly known features is the step-counter. Seniors that are trying to be fit will find the step-counter really beneficial to tracking how many steps they're getting in a day. There's even some health insurance companies that will give small discounts to their premiums if people submit a certain amount of steps per day, every month. It shows that they're trying to be active and healthy. Smart watches can even show heart rate, and the newest models can even show abnormalities with heart rhythm.
Staying Connected
With the advent of the internet, staying connected with family and friends has never been easier. With websites and apps like Facebook, you can easily look up people you have lost contact with. Haven't talked with a high school friend in years, search for them on Facebook and rekindle the friendship. With Facebook, people can post updates about their life whenever they want, including photos and videos. So you'll be able to see what family members are up to in their life on a daily basis.
Video chatting also makes staying connected super simple. Using a smartphone, computer, or tablet, you can easily call up a friend or family member and within seconds you could be looking at their face in live time. Similar to calling someone of the phone, except with live video. For those with family that are far away, the chance to see a family member's face in real time can be such a wonderful thing.
Entertainment
The options for being entertained through technology are almost endless. Gone are the days of paying for a high cable bill, unless that's something you want. Subscription services like Netflix, Amazon Prime Video, Hulu, and more are available for you to watch, most completely commercial free. They have thousands of television shows, movies, and shows they've created on their own. Plus, unlike your home cable television service, you can take the apps with you on your tablet, phone, or laptop, and enjoy them wherever you are at any time.
If you enjoy reading, then technology is about to change your world, if it hasn't already. Enter the world of eBooks and eReaders. With an eReader, like the Amazon Kindle or Barnes and Noble Nook, you can hold hundreds or thousands of books in one small device. The eReader has turn page features, which give it a more realistic feel. Some models has what's called eInk, a type of screen that is glare-free, using actual electronic ink to show the words and photos of a book. This type of display doesn't strain the eyes like a traditional tablet would. An eReader will make traveling with books much easier and more enjoyable. The only downside to an eReader? No book smell, but they may be working on that.
Conclusion
Embracing technology can be a scary thing, because there's a lot to learn. However, most technology is designed to be simple to use and to make your life safer, more enjoyable, and easier.
Bonaventure Senior Living
At Bonaventure Senior Living, we have Retirement Perfected, Living Perfected, Dining Perfected, and Fitness Perfected.  The best way to see for yourself is to Book-A-Tour today and discover how you can live life on your own terms. We specialize in Independent Living, Assisted Living, and Memory Care, that way, no matter what your current situation is, we have all levels of care covered if your needs ever change.
Independent Living
With Independent Living, we want you to enjoy Simplified Living, allowing you to have the freedom to do what makes you happy. Our Independent Living is designed to accommodate the exceptional senior lifestyle that you've earned. What's even better, is that with Independent Living we offer whatever supportive services that you may need at any time you may need them. Now that's Retirement Perfected.
Assisted Living
Assisted Living at Bonaventure Senior Living is simple: all the lifestyle benefits of our Independent Living, but with any extra support that you may need. Our philosophy is based on three simple things: choice, independence, and dignity. Now that's Assisted Living at its finest.
Memory Care
Every senior is a unique person, and our Memory Care approach is no different. We tailor our Memory Care by connecting with family members and taking time to understand each person's specific circumstances. This includes mental, emotional, and physical health. Our Memory Care creates an honorable and professional plan to make sure that each person lives their life to the fullest. That's the way Memory Care should be.