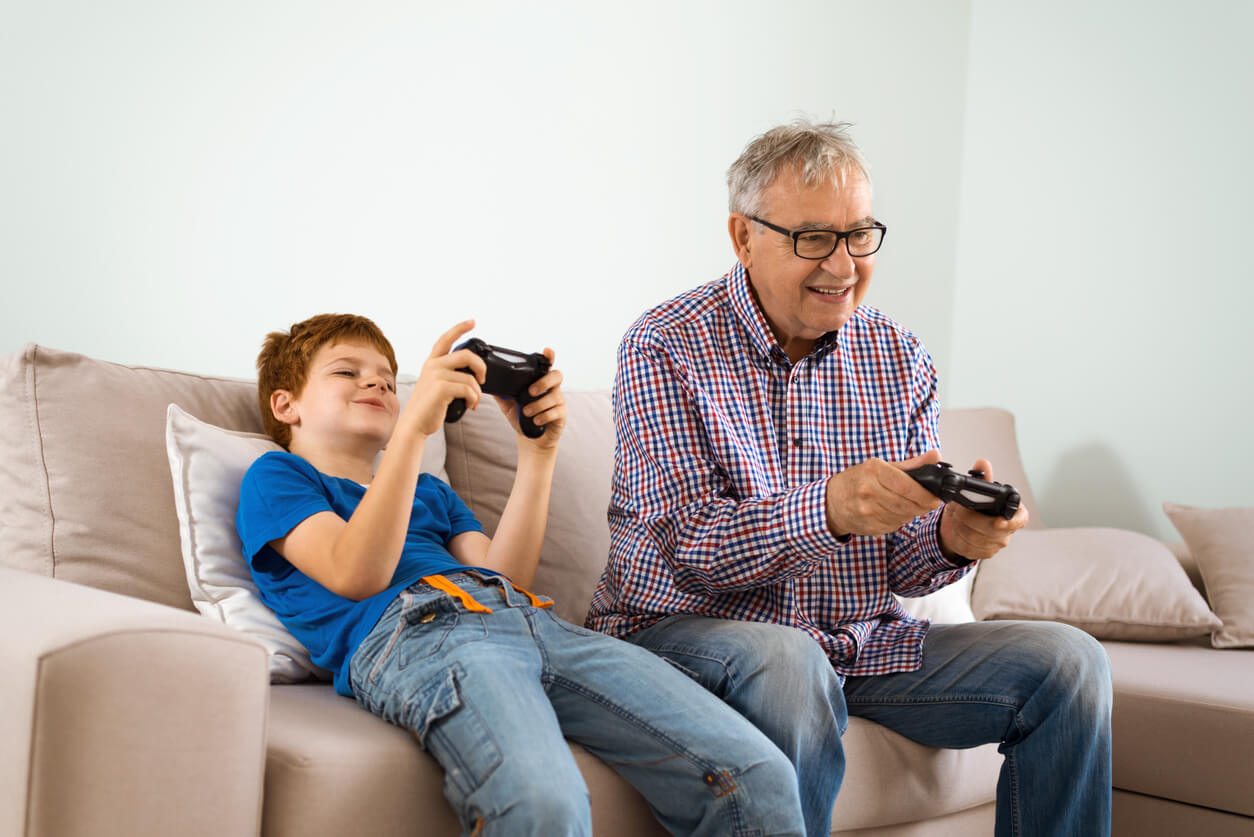 Spending time with your grandchildren can be one of the most rewarding experiences you can have as a grandparent. With the increase of technology, like tablets, phones, computers, video games, and the internet, getting your grandchild to disconnect and actually spend some quality time with you can seem like a daunting task. There are certain ideas that may entice the younger generations better than others.
Video Games
If you can't beat them, join them! Video games can be for seniors, too. In fact, more and more seniors are playing video games than ever before. Kids love to play video games, and depending on which game(s) you choose, you will likely love them as well.
The Nintendo Wii is a fun gaming console that both seniors and kids can enjoy together. The Wii allows for users to use actual motions to play games, instead of just using a controller. The games are much more interactive than other gaming consoles. For example, you can play bowling, where you actually pretend to throw a ball down a lane to get that much sought-after strike. Each player can take turns and can compete against each other. It can create a bond while bridging the generational gap. There are many types of games, all interactive: bowling, tennis, racing, fishing, and lots more.
You could also try a simple game that millions of people around the world have fallen in love with: Minecraft. Kids love playing Minecraft. What is it? It's a game where you are a character in a massive world that allows you to build, destroy, craft, and simply do whatever you want. It allows for multiple players to be in the same world, so you and your grandchild can have your own personal world together. Build a castle, complete with lava moat, or anything else that your imagination can whip up. Plus, it gives your grandchild the opportunity to give you their knowledge of how to play the game, which can make them feel special.
Outdoors
If technology isn't your thing, and you want to get away from it all, go outdoors. Most outdoor places, like hiking trails and camping areas have little or no cell service, making it perfect for disconnecting from technology and spending some quality bonding time with your grandchild. Take them on a hike somewhere, or go camping for the weekend, or even fishing for a day. You could even do all three in the same trip if you're adventurous enough. Getting outdoors and doing things like these will create long-lasting memories that they, and you, will cherish for a lifetime.
Reading
Reading is a lost art that many of the younger generation doesn't do. Not all, but most. Find out what kind of books they would like (fantasy, adventure, etc.) and create a personal book club. You could just buy one copy and take turns reading out loud, continuing the story each time you see each other. Or you could read separately and then discuss it when you come together. This not only instills a love of reading in your grandchildren, which is an amazing thing to pass onto them, but also creates a strong bond, because you both share a similar experience. Try and stick to their likes, though. While war novels may be your favorite, if they're only into fantasy or something, they would likely not be as interested in other genres. It's okay to explore other genres, just don't do it so abruptly.
Treasure Hunting
Children love hunting for treasure, who doesn't, right? You could try one of these fun activities: Geocaching or metal detecting.
Geocaching is a fun and rewarding outdoor adventure game. It involves using GPS to find caches of various items that people hide all over the country (and the world). There are websites you can check out that will simply give you coordinates and then you head out and search. GPS is accurate within 10-30 yards or so, depending on numerous factors. So once you arrive at the location, you must actually search for the box of treasure. Usually the treasure isn't meant to be taken, unless specified, but bringing something to add to the treasure is encouraged. There's also typically a notebook that is supposed to be written in when people find it. This can be a great way to spend some time with grandchildren. Because of the unusual nature of geocaching, some seniors with mobility issues might refrain from such activities.
Metal detecting has been around for decades, and only gets more advanced with evolving technology. Metal detectors can range from $100 and upwards of thousands of dollars, depending on features, brand, and other factors. Typically, one can get by with a cheap, simple model. Check with your local laws and regulations to make sure the area you're going to detect is legal to do so, or ask permission from private landowners. You never know what you'll find. You could find gold, jewelry, relics, and more. There are some unwritten metal detecting rules that should be followed: if you find garbage (you will find lots of it) remove it and throw it away, always cover your holes back up when you're done, and always make sure it's okay to detect where you are looking.
Conclusion
There are numerous things that seniors can do with their grandchildren that can excite them into wanting to spend more and more time with you. Best thing to do is simply ask them what they want to do, for the most part, they'll tell you. But you could present the above ideas to them and see what they think. Chances are, they'll love them all and you'll create long-lasting bonds with each other that will last for a long time.
Bonaventure Senior Living
At Bonaventure Senior Living, we have Retirement Perfected, Living Perfected, Dining Perfected, and Fitness Perfected.  The best way to see for yourself is to Book-A-Tour today and discover how you can live life on your own terms. We specialize in Independent Living, Assisted Living, and Memory Care, that way, no matter what your current situation is, we have all levels of care covered if your needs ever change.
Independent Living
With Independent Living, we want you to enjoy Simplified Living, allowing you to have the freedom to do what makes you happy. Our Independent Living is designed to accommodate the exceptional senior lifestyle that you've earned. What's even better, is that with Independent Living we offer whatever supportive services that you may need at any time you may need them. Now that's Retirement Perfected.
Assisted Living
Assisted Living at Bonaventure Senior Living is simple: all the lifestyle benefits of our Independent Living, but with any extra support that you may need. Our philosophy is based on three simple things: choice, independence, and dignity. Now that's Assisted Living at its finest.
Memory Care
Every senior is a unique person, and our Memory Care approach is no different. We tailor our Memory Care by connecting with family members and taking time to understand each person's specific circumstances. This includes mental, emotional, and physical health. Our Memory Care creates an honorable and professional plan to make sure that each person lives their life to the fullest. That's the way Memory Care should be.