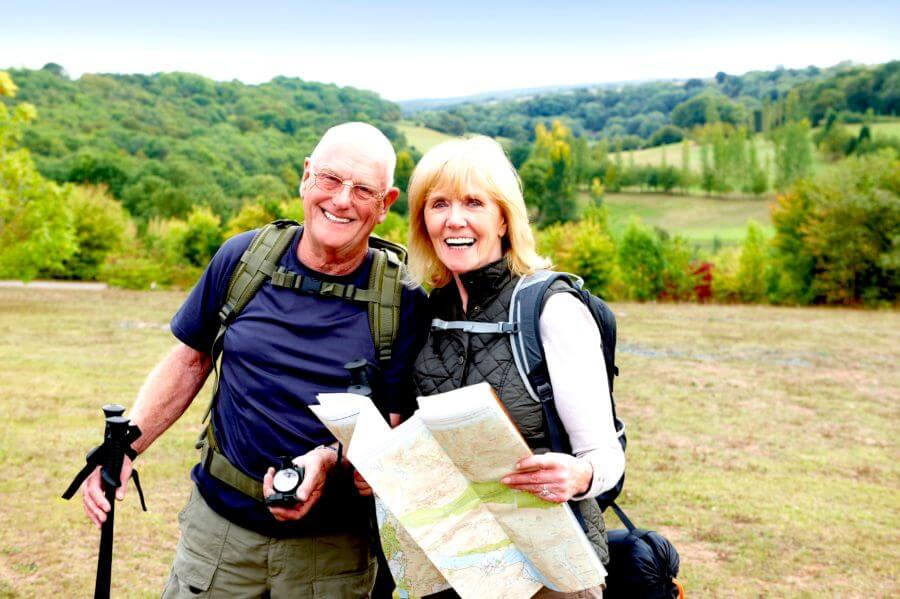 The weather is better, the sun shines for longer throughout the day, and June is National Great Outdoors Month. There's never been a better reason to go outside and have some fun.
What is National Great Outdoors Month?
This national month is celebrated every June and is meant to highlight the numerous outdoor possibilities this nation's parks, forests, refuges, and other public lands and waters. With more daylight hours and the fact that the heat hasn't hit with its full force yet, it's obvious why June is the perfect month for such a designation.
The Benefits of Getting Outdoors
Going outside has benefits for everyone, of all age groups, but it can benefit seniors even more. The outdoors typically provides fresher air, which promotes better health from colds and other airborne sicknesses better than inside air can provide. Inside air tends to be staler than outside air, which is, for the most part, fresh. This fresh air can help provide more oxygen to the brain, thus keeping it running at a higher efficiency than its staler counterpart.
Getting outside and doing things like walking, no matter how strenuous, is always going to be better for you than staying indoors and not doing anything active. Going on a hike, for example, provides cardio, stretches muscles, gives the body fresh air, and more, all while enjoying the beauty of what's around you. Seniors need this kind of simple fitness more than any other age group, as an aging body requires more exercise to stay in shape.
Different Outdoor Activities
As mentioned previously, hiking can be a great way to get outdoors, experience the beauty around you, and sneak in a little fitness. Hikes don't need to be long and hard in order to be effective, but rather just frequent. Frequency is much more important than how intense the workout is. If you use a walker, look for local hiking trails that are ADA accessible, as they will likely be paved. This will make it so you're not walking on uneven terrain.
If you're fit enough, biking can also provide great opportunities for fitness. A simple ride along a bike path, or even around your Bonaventure Senior Living community is a great way to get some fresh air and exercise. There are even bikes that are more senior-friendly, called recumbent bikes. These bikes will sometimes have three wheels, and will have a more comfortable angled seat and posture, typically in a lounge-style position. This position, and the addition of three wheels, allows for those that may have a hard time balancing to ride with ease.
If those two outdoor activities don't sound appetizing, then maybe this next one will. Grab your favorite lunch, a beverage, some good company, and go somewhere and have a picnic. Picnicking has seen a comeback in recent years due to its simplicity and cost-effectiveness. Enjoying a nice lunch while surrounded by nature can be a rewarding and memorable experience. You can bring some good sandwiches or a cheese and meat plate, and possibly even a bottle of wine (check local laws and park regulations first). You can find a park with picnic benches or you can bring a blanket and sit somewhere nice on the grass.
Conclusion
Getting outside for National Great Outdoors Month is more than just getting out to see all the nature, it's also about just simply getting outside. With television, the internet, and everything else that keeps us indoors, it's good to remember that there's a world of beauty and fun to be explored right outside our doorsteps.
Bonaventure Senior Living
At Bonaventure Senior Living, we have Retirement Perfected, Living Perfected, Dining Perfected, and Fitness Perfected.  The best way to see for yourself is to Book-A-Tour today and discover how you can live life on your own terms. We specialize in Independent Living, Assisted Living, and Memory Care, that way, no matter what your current situation is, we have all levels of care covered if your needs ever change.
Independent Living
With Independent Living, we want you to enjoy Simplified Living, allowing you to have the freedom to do what makes you happy. Our Independent Living is designed to accommodate the exceptional senior lifestyle that you've earned. What's even better, is that with Independent Living we offer whatever supportive services that you may need at any time you may need them. Now that's Retirement Perfected.
Assisted Living
Assisted Living at Bonaventure Senior Living is simple: all the lifestyle benefits of our Independent Living, but with any extra support that you may need. Our philosophy is based on three simple things: choice, independence, and dignity. Now that's Assisted Living at its finest.
Memory Care
Every senior is a unique person, and our Memory Care approach is no different. We tailor our Memory Care by connecting with family members and taking time to understand each person's specific circumstances. This includes mental, emotional, and physical health. Our Memory Care creates an honorable and professional plan to make sure that each person lives their life to the fullest. That's the way Memory Care should be.