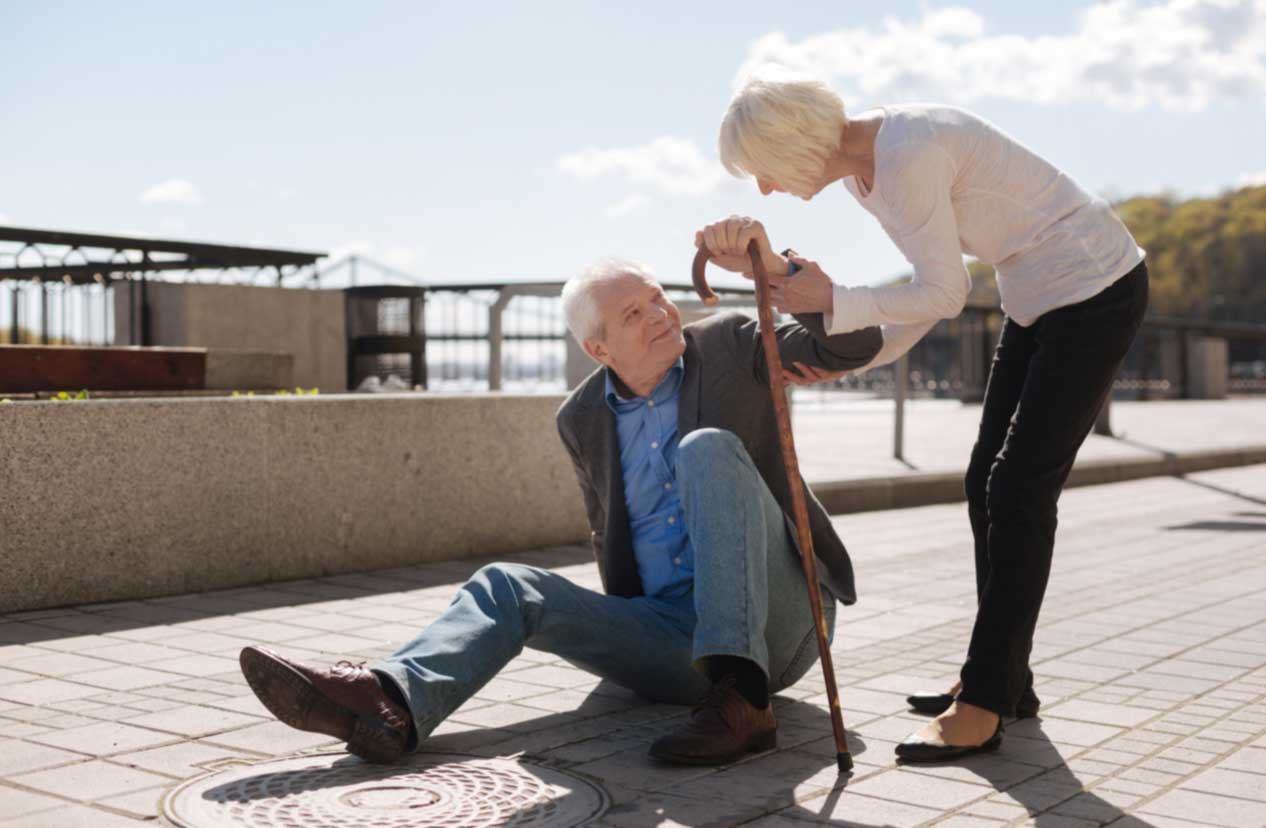 Falling Can Become A Catalyst To Some Serious Problems
Falling may not seem like a very important topic, but in older adults it can disastrous to the health of the individual. Because older adults are at a higher risk for infection, bone problems, and more, falling can become a catalyst to some serious problems. The simple act of skinning a knee could turn into a life-threatening infection. Taking steps to prevent falls is vital.
Talking With Your Doctor About Falls
One of the first steps that should be taken when preventing falling is speaking with a doctor. They may be able to switch medications that could cause dizziness. Doctors could also prescribe certain medications that improve balance. They could even recommend devices to assist with walking, like a cane, walker, or even a wheelchair.
In independent living, assisted living, and memory care communities, certain steps are taken to ensure that falls are reduced. Generally there are elevators as well as stairs, easy-access bathtubs, and handrails that can make things safer.
Keep Active
Surprisingly, staying active can help reduce the risk of falls. This is because muscles become strong and are better able to support the weight and movement of the body. Joining a fitness program, like Bonaventure Senior Living's Fitness Perfected program can help gradually get the body into shape and make falling less likely to happen. Our Fitness Perfected program has easy-to-do exercises that help strengthen the body. If you're worried about falling while doing exercises, a lot of the Fitness Perfected classes actually utilize chairs, so there's even less likely chance of falling.
Remove Obstructions
As simple as it may sound, removing things from the paths you use can help prevent falls. If there's nothing to trip over then chances are you won't. This can include a rug, as they tend to lift or curl in such a way that can trip one up.
Shoes and Light
These two ways to prevent falling are simple enough. Wear shoes that are comfortable and fit your feet and make sure there's plenty of light in your living space. At Bonaventure Senior Living communities, like our independent living, assisted living, and memory care, all of our suites have a full array of lights to ensure that you are able to see no matter where you are in your home.
Use Devices That Assist
If all else fails, use devices that can offer support in preventing falling. Canes, walkers, wheelchairs, handrails, nonslip shoes. Whatever it takes to make sure that a fall doesn't happen is worth using or worth doing.
Conclusion
Falling is never a good thing, but it becomes especially important to prevent falling as we get older. Taking steps to make sure that you don't fall is a simple and vital task for your health and well-being. Be well.
Bonaventure Senior Living
At Bonaventure Senior Living, we have Retirement Perfected, Living Perfected, Dining Perfected, and Fitness Perfected.  The best way to see for yourself is to Book-A-Tour today and discover how you can live life on your own terms. We specialize in Independent Living, Assisted Living, and Memory Care, that way, no matter what your current situation is, we have all levels of care covered if your needs ever change.
Independent Living
With Independent Living, we want you to enjoy Simplified Living, allowing you to have the freedom to do what makes you happy. Our Independent Living is designed to accommodate the exceptional senior lifestyle that you've earned. What's even better, is that with Independent Living we offer whatever supportive services that you may need at any time you may need them. Now that's Retirement Perfected.
Assisted Living
Assisted Living at Bonaventure Senior Living is simple: all the lifestyle benefits of our Independent Living, but with any extra support that you may need. Our philosophy is based on three simple things: choice, independence, and dignity. Now that's Assisted Living at its finest.
Memory Care
Every senior is a unique person, and our Memory Care approach is no different. We tailor our Memory Care by connecting with family members and taking time to understand each person's specific circumstances. This includes mental, emotional, and physical health. Our Memory Care creates an honorable and professional plan to make sure that each person lives their life to the fullest. That's the way Memory Care should be.