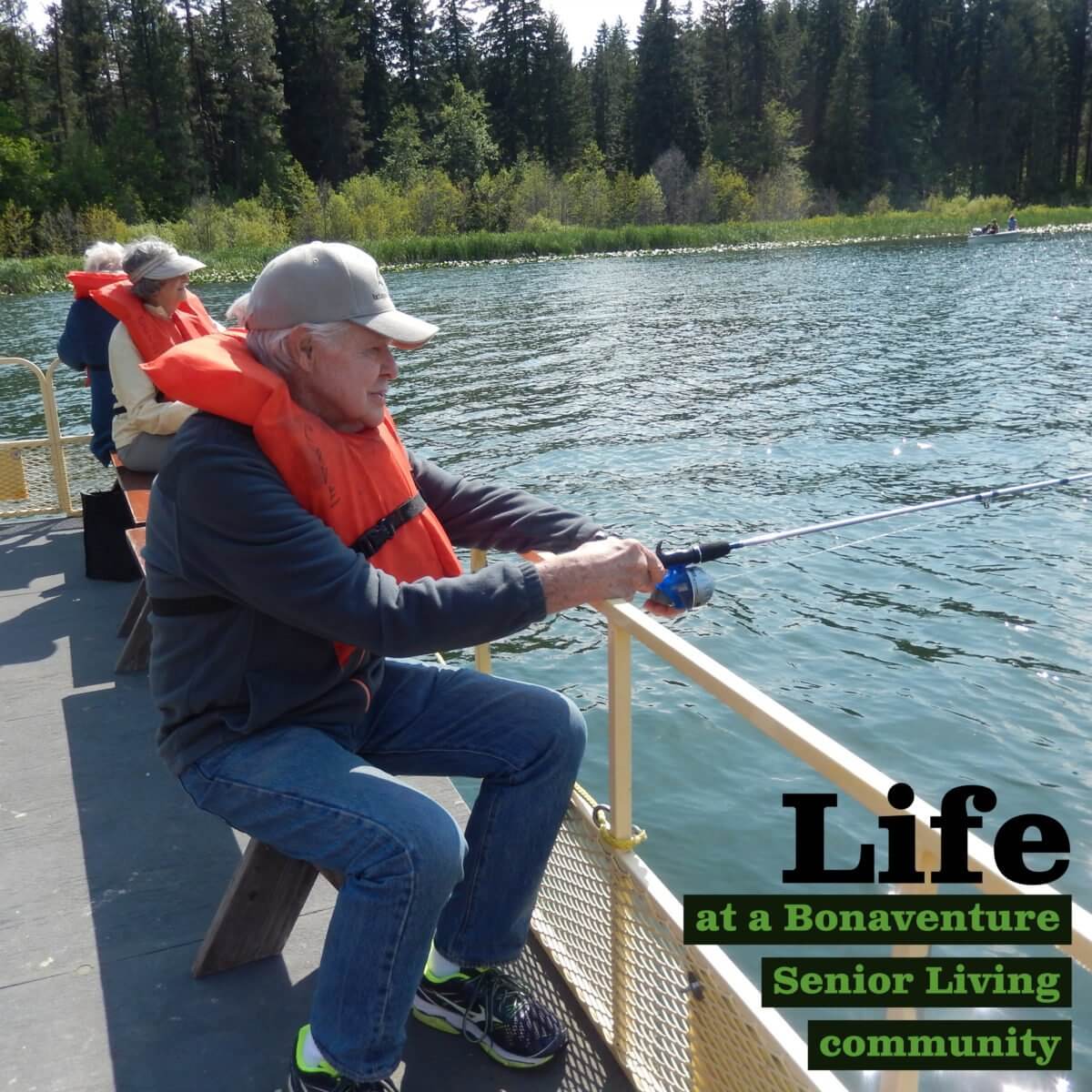 Google defines the word 'retirement' as "The action or fact of leaving one's job and ceasing to work." Well, it's official, you're retired. So why are you still working? Sure, you may have left the daily grind of the 9-5, but you're still doing all the work around the house. It's a lot, and to be honest, it's eating into your retirement living. At Bonaventure Senior Living, we can help!
So, you've decided, or are thinking about, finally living life on your terms and becoming a resident at a Bonaventure Senior Living community. Good choice. Now you can enjoy your retirement to its fullest, never having to worry about the plumbing, mowing the lawn, or if you'll ever have time to enjoy life. At Bonaventure Senior Living, retirement is yours to have and enjoy, no matter if you are or plan to live in independent living, assisted living, or memory care.
What's it's like at Bonaventure Senior Living?
Are you an early-riser or do you enjoy sleeping in? Either way, it's your choice. You'll wake up in your beautiful, unique, and spacious suite. Each suite has large windows, allowing for a flood of natural light. Floor plans vary so that your own space is as unique as can be.
After you rub the sleep from your eyes, join us in the dining room for a delicious breakfast. We have all the classics: custom omelets, Eggs Benedict, pancakes, bacon, eggs, and more. No matter what you're in the mood for to start your day, chances are we've got it. Enjoy your breakfast with a cup of delicious coffee, tea, or juice and of course, with good friends in our open dining setting. Our professional servers will take your order and in no time you'll be enjoying a great start to your retirement.
After breakfast the bus is heading out on an adventure you won't want to miss. There are always outings and excursions to be a part of. For example: A trip to the ocean, followed by a beautiful lunch on an ocean view deck. Or maybe a tour of a winery, complete with wine samples, cheese plates, and a wine-making demonstration. There's no limits of what could be done on one of our outings. Bonaventure Senior Living independent living, assisted living, and memory care is always on the move, looking for that next great retirement adventure.
Maybe you're not looking for adventure, at least, not today. So, after breakfast you find yourself caught up in a relaxing game with a good friend. You both enjoy each other's company and pair it with a nice cup of hot coffee. The conversation and fun consumes your morning and next thing you know: lunchtime!
Lunch at Bonaventure Senior Living is a special time. We tend to go all out. What does that mean? Well, let's say you took that bus trip in the morning. It's now lunchtime and your group is now heading to a restaurant for a delicious lunch. Most, if not all, outings (including the lunch), is decided upon by residents. It may be an exciting new fusion restaurant, or maybe a classic diner, whatever it is, you're in for a treat.
But let's say you stayed back at the community. After your game, you make your way into the dining room and find yourself among a group of friends. You gander at the menu and its many offerings: 'Salmon with a rosemary orange glaze, served with Moroccan style couscous and beets.' It doesn't matter if you live in independent living or assisted living, we offer up to 18 Dining Perfected menu items daily. From daily and weekly specials, to anytime favorites, like a classic cheeseburger. If you have any dietary restrictions, have no worry, we have many different options for you, while still providing you with a delicious, healthy meal.
After lunch the bus heads back to the community. Being as it's getting close to 3:00 p.m., you head to happy hour. This week is a special performance by an amazing band. You'll enjoy classic, toe-tapping tunes while enjoying some wine, beer, or cocktails. Dancing is always encouraged. Following happy hour you may find yourself in a class learning about the native habitats of polar bears, or maybe you'll play a game of bingo or learn to paint landscapes. There are upwards of 16 Living Perfected activities every single day. There's never a shortage of things to do at Bonaventure Senior Living. Independent living, assisted living, or memory care, no matter what, your enjoyment is our goal for your retirement.
After bingo, dinner will be served. You find yourself ordering Greek-style beef skewers with braised potatoes in an herb tomato sauce. Don't worry, dessert is not forgotten. The dessert special of the day is always recommended. Things like an apricot torte in puff pastry, or fruit-crisp a la mode. There's always ice cream, freshly baked cookies, and pie available.
After dinner, join good friends by the fireplace for a reading of classic poetry and a nightcap. Or, maybe head to the theater for a movie with freshly popped popcorn. Some of our newer communities have a bowling alley, so you can enjoy a few frames before retiring to your home.
Life at Bonaventure Senior Living is indeed Retirement Perfected. But guess what? It doesn't end today. Every day is a new adventure. A new opportunity to enjoy your retirement the way you want to.
This is life on your terms. This is Bonaventure Senior Living.
Bonaventure Senior Living
At Bonaventure Senior Living, we have Retirement Perfected, Living Perfected, Dining Perfected, and Fitness Perfected. The best way to see for yourself is to Book-A-Tour today and discover how you can live life on your own terms. We specialize in Independent Living, Assisted Living, and Memory Care, that way, no matter what your current situation is, we have all levels of care covered if your needs ever change.
Independent Living
With Independent Living, we want you to enjoy Simplified Living, allowing you to have the freedom to do what makes you happy. Our Independent Living is designed to accommodate the exceptional senior lifestyle that you've earned. What's even better, is that with Independent Living we offer whatever supportive services that you may need at any time you may need them. Now that's Retirement Perfected.
Assisted Living
Assisted Living at Bonaventure Senior Living is simple: all the lifestyle benefits of our Independent Living, but with any extra support that you may need. Our philosophy is based on three simple things: choice, independence, and dignity. Now that's Assisted Living at its finest.
Memory Care
Every senior is a unique person, and our Memory Care approach is no different. We tailor our Memory Care by connecting with family members and taking time to understand each person's specific circumstances. This includes mental, emotional, and physical health. Our Memory Care creates an honorable and professional plan to make sure that each person lives their life to the fullest. That's the way Memory Care should be.