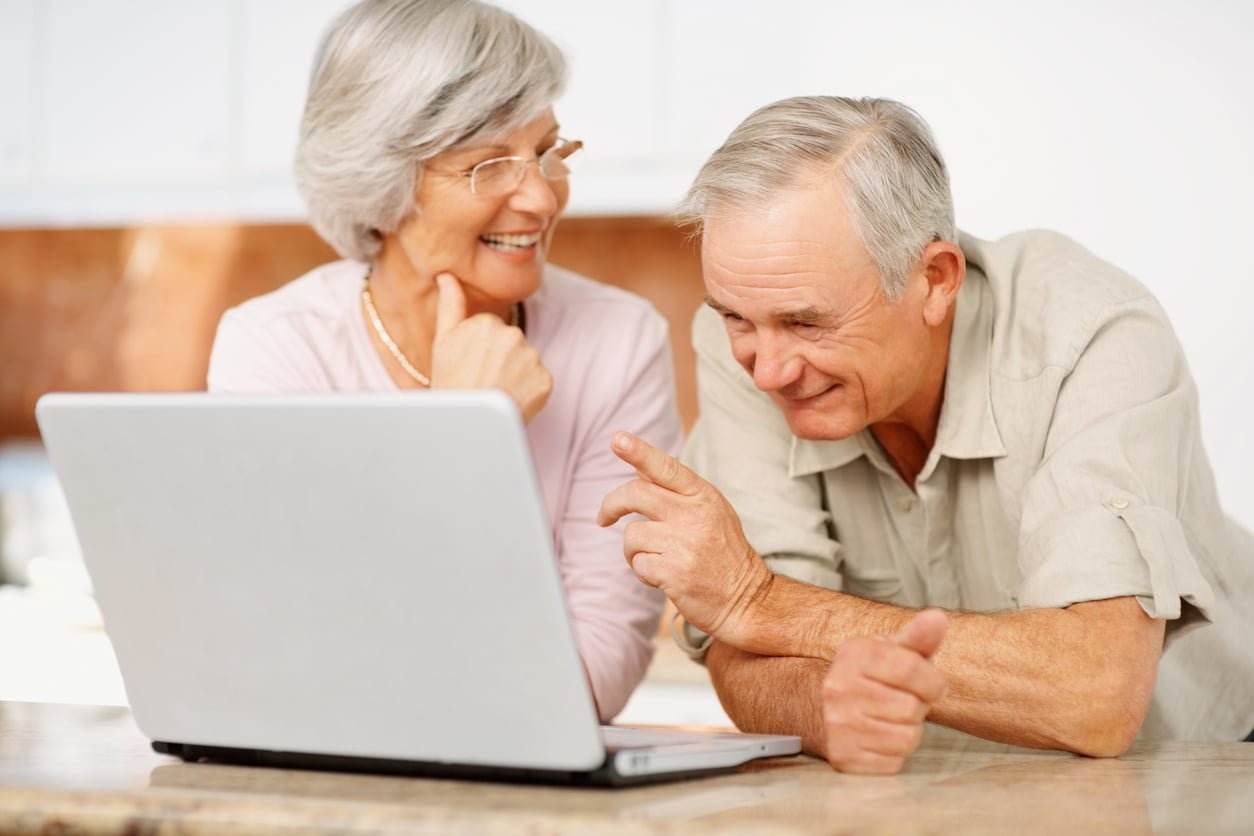 When it comes to seniors and technology, there tends to be quite a few stereotypes. The main one is how seniors don't use, or don't want to use, technology because it's too confusing. This day and age, this couldn't be further from the truth.
Seniors are using technology, like smart phones, tablets, e-readers, computers, and smart watches more than ever.  According to a study, four-in-ten seniors reported owning a smartphone in 2016. Think that number is small? Just three years before that data, in 2013, the number was roughly two out of ten seniors. The number of seniors owning smartphones has doubled. Data also shows that this trend will continue as time goes on. About one-third of seniors 65 or older reported owning a tablet, and one-in-five reported owning an e-reader.
Just because seniors own technology, does it also mean that they're using it? 77% of Baby Boomers go online every month. Half of them are by using smartphones or tablets. In 2014, 70% were on Facebook and 31% were using Twitter.
Seniors that aren't using technology and the internet may think it's a conglomeration of confusing contraptions, but they couldn't be further from the truth. For the most part, various devices and internet websites, like Facebook or Twitter, want to be as easy to use as possible so that you'll continue to use it.
5 Reasons Seniors Should Be Using Technology
Social Connections
The biggest reason seniors should be using technology, be it smartphones, tablets, or computers, is staying in touch with family and friends. In retirement, even if you're living in independent living or assisted living, websites (or apps) like Facebook, Twitter, and Instagram allows users to see what their family members are up to on a day to day basis. It really allows users to stay connected to every part of their family and friends lives. In some cases, you'll be able to see what a family member or friend had for dinner, or their new haircut, or what they're thinking about. Facebook, for example, is also being used to announce life-changing events, like engagements or pregnancies. You can see photos you would likely never see in person, watch videos of your family or friends, and even chat with them (text or video). Speaking of video chatting, using services like Skype can be an amazing tool to keep in touch with those that are far away. Getting familiar with Skype is one tool you should certainly have down. Simply sign up, for free, add your family or friends, and begin video chatting. You can use the service on your smartphone, tablet, or computer (assuming your device has a camera). Now you're able to see your family or friends in real time just as if they were there with you. Using services like Facebook, Twitter, Instagram, or Skype can greatly improve your connection with those you care about and keep you in touch with those that may be far away or can't always visit.
Variety of News Outlets
Another great reason to use technology is to take advantage of the various news outlet that are available. Some news outlets are only available online, and some that you can watch on TV have extra content available only online. This allows for a greater span of news and information. At any given moment there are news outlets adding more and more stories to the internet, providing you with a better look at the world around you. You can choose to focus on local news, nationwide news, world news, or everything. The [news] world is your oyster. If you're into weather news, there are hundreds (if not thousands) of various weather services on the internet. On your smartphone or tablet, you can download apps that only deal with weather news, or you can visit a website and get a broader spectrum of weather across the globe. With technology and the internet, the news world is right at your fingertips. No more waiting for the ten o'clock news to get your daily dose.
Electronic Reading
A study in 2014 concluded that 70% of those aged 65 or older read a book in the past year. Of that 70%, only 12% used an e-reader to do such a task, (the study doesn't include those that used a tablet to read e-books). The benefits to an e-reader are amazing. Imagine being able to carry 1000 books with you at all times in a small device that weighs less than a hardback book. Sound wild? Well, that's an e-reader. There are a ton of different brands of e-readers on the market, but the two biggest names in e-readers is the Amazon Kindle and the Barnes and Noble Nook. There are pros and cons to both devices, but we'll focus on the Kindle due to Amazon having the biggest selection of e-books available, over five million e-books, many of which are free, and a lot are quite affordable. The Kindle has what is known as e-ink technology. This means that instead of an LED or LCD display screen, it actually has ink that is electronically charged. So when words, or an image, appears on the screen you're actually looking at ink and not lights. This is better on your eyes and more accurately mimics an actual book-reading experience. It also saves your battery. The average battery life for a Kindle e-reader is 28 hours. That's a lot of reading. The reason for such a long battery life is due to the e-ink. The words or image you see on the screen only uses battery when it changes. If it's left on the screen, like when you're reading a page, no battery is used. This, of course, assumes that you don't have Wi-Fi running in the background. While a tablet can be used for reading, it can put strain on your eyes, whereas e-ink e-readers do not.
Fitness and Health Tracking
If you don't know, then you're probably thinking the best fitness and health technology is only reserved for gyms, doctors, and the like. While that is probably true, a really good portion of fitness and health technologies is actually designed and sold for home use. Specially, apps, watches, and video games. We'll start with the biggest group of health and fitness products: apps. One of the most popular fitness apps for senior is called 'My Fitness Pal'. The app is free to download for any iOS and Android smartphone. Within the app you can input your weight-loss goals, record what you eat, and track any fitness activities that you do. You can even scan bar codes of the foods you eat so that the app can more accurately track caloric intake. There are so many health and fitness apps, the real key is to just try out a few and see if you like them. Moving forward, we'll discuss one of the best health and fitness things you can add to your arsenal: the watch. Another items that has tons of brands, the two most popular are the Fitbit and the Apple Watch. Beginning with the former of the two, the Fitbit has taken the world by storm. There are tons of models, ranging in price and features. The Fitbit allows wearers to count their steps, track their heart rate, track sleeping habits, and be more active. The Apple Watch is everything a Fitbit is, and more. With more features, and the fact that it carries the Apple name, it is higher in price than almost all Fitbit models, but for some features, it's worth it. The Apple Watch is also dependent on having your phone synced with it in order for a number of the features to work. It can count your steps, track your heart rate, encourage moments to stand up, has fitness features, and more. Another cool feature of the Apple Watch is the ability to receive and send text messages and calls directly from the watch. You can also change watch faces to better suit your style, like a more fitness or health based watch face, or a more classic and elegant watch face for the business professional. Lastly, when it comes to fitness (and fun), there's almost nothing better for seniors than the Nintendo Wii. Yes, that's a video game console, just like the grandchildren have. The Wii is one of the most active and engaging video games systems on the market. It wants you to get up and move around, all while having fun. With the Wii you can bowl, play tennis, hunt, golf, and more. Each game requires movement and actually simulates the real thing, for example, when playing Wii Bowling, you can actually move your body as if you were really bowling. There's also Wii Fit. This game is specifically designed for fitness. While the other games hide fitness within a fun package, this game is all about fitness. The Nintendo Wii is great for seniors, and because it's a video game system, it's subsequently good for grandchildren, too. Just about all retirement communities, like independent living and assisted living have a Wii console for residents to use.
Information and Purchases
Seniors should always try to continue learning new things. It keeps the brain sharp. With any piece of technology, smartphone, tablet, computer, e-reader, etc., there's always an opportunity to learn something. A wealth of human knowledge it at your fingertips. Simply visit Wikipedia to learn about anything, it's literally a massive digital encyclopedia. Going to Google you'll be able to find the answer to almost anything you can think about asking. Seriously, anything. Sometimes with age, our ability to get around and shop for things can become difficult. With the internet you can pretty much buy anything you can buy out in the real world. Things like fresh produce, clothes, gifts, and more. If you can buy it, chances are you can buy it online. Using websites like Amazon can get you whatever you need, shipped right to your door. In some cases, as soon as the next day. This can be really useful in senior living communities like independent living and assisted living. Don't be afraid of buying on the internet, well-known websites take extreme measures to ensure their sites are secure from hackers or people that would steal your credit card information. After all, Amazon wouldn't be very successful if people were continuously having their private information stolen. Just make sure that when you're buying online that you're using a trusted website.
Conclusion
Technology is a huge asset for seniors, from shopping, entertainment, education, and staying connected. The possibilities are endless and any senior should take full advantage of all the different devices and services intended to make life easier.
If there's one place that knows how to make life easier for you, it's Bonaventure Senior Living. Specializing in Retirement Perfected, we can take care of you so you can live life on your terms. Whether it's enjoying five-star dining, luxurious suites, or activities and outings that will astound, Bonaventure Senior Living is the best in the business when it comes to giving you the peace of mind you deserve. We have senior living covered: independent living, assisted living, and memory care. You are just one click, one moment away from discovering how much fun life can be with Bonaventure Senior Living