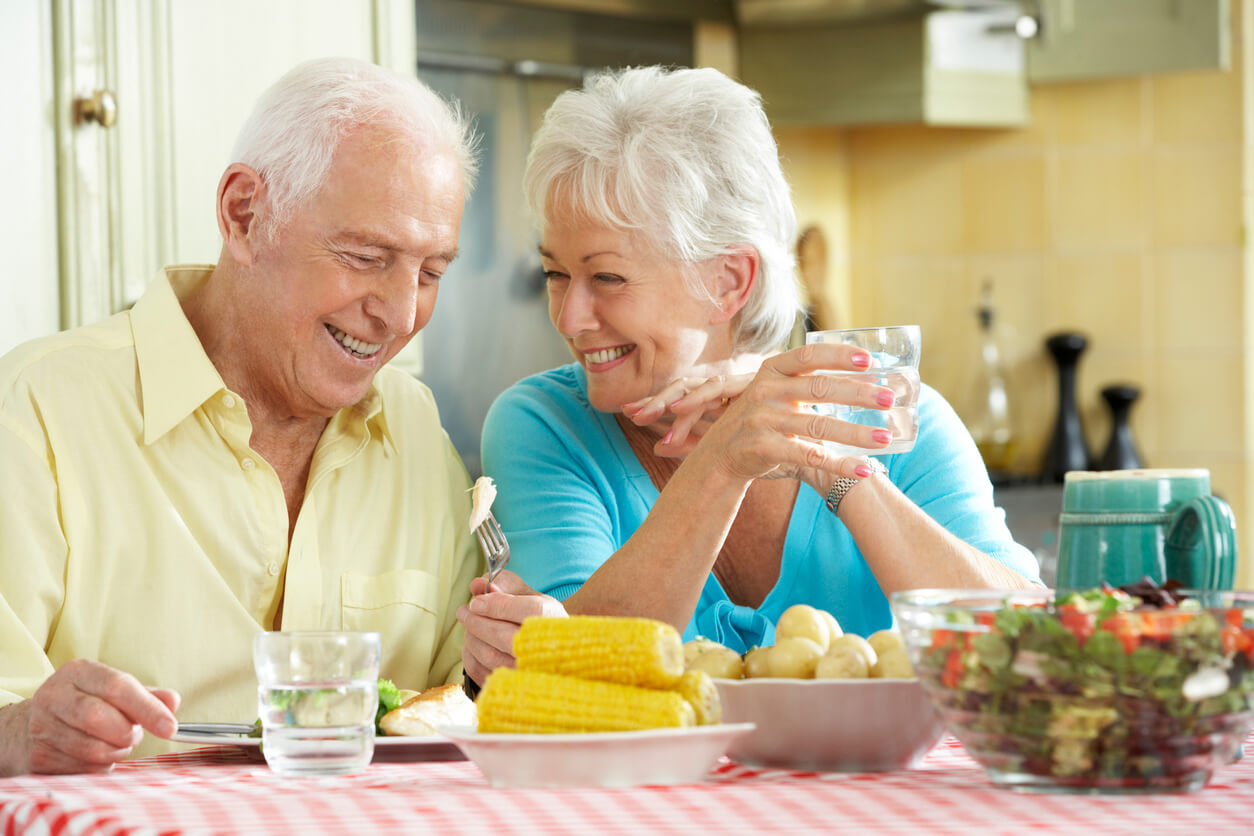 Making sure that you are making healthy food choices are important at any age. However, it becomes even more vital as we age. Dieting can be a wonderful way to not only make sure you are a healthy weight, but also that you're getting the best nutrition to keep you active and healthy.
More than likely, as a senior, you're probably not burning calories like you did when you were younger. That's okay and completely normal. But you still want to make sure that you are following the golden rules of weight loss.
The Golden Rules of Losing Weight
Eat more veggies, whole grains, fish, low-fat dairy, beans, fruit, and lean meats.
Limit foods that are high in processed sugars or salt. What's known as "junk food".
Burn more calories than you eat or drink.
Avoid fad diets.
Drink water.
With all that said, while weight loss is key, you also want to make sure your diet is including things that can help keep your heart healthy. Foods that are high in omega-3 fatty acids are great for the heart. Omega-3 is a type of fat, but it's a good fat. This type of fat can actually help you in numerous ways. One of the most beneficial ways it can help seniors is by its heart-healthy qualities. Studies show that it's also good for the brain, skin, internal organs, and more. This type of fat comes in various shapes and sizes: salmon, almonds, avocados, walnuts, eggs, navy beans, spinach, and more. This fat is a wonderful part of any dieting regiment.
The Miracle Ingredient
Most fad diets always purport some type of miracle pill, food, powder, drink, etc. Typically, you have to buy this directly from them and you will end up shedding pound after pound with little to no work. No matter how many times a new dieting fad comes out, it typically ends up disappearing into obscurity, leave you weighing the same around the waist, but less in the pocketbook.
There's only one true miracle weight loss thing out there: water. That's right, water. This simple thing, while holding very little nutritional value, can do wonders for the person looking to lose weight. But even water alone won't do much. You need to use it along with dieting and exercise to really unleash its power.
Water can do a couple things. One of the first things is quench your hunger. A lot of the times you may think you're hungry, when in fact you're just thirsty. Before you go and eat a bunch of food, chug some water and see if the feeling is still there. Another thing that water can do is simple: hydrate. Keeping your body hydrated will ensure that every organ is working at its full potential. Hydration will also keep your digestive system moving, which can help flush out some extra things you don't want.
Metabolism
Your metabolism was probably once a huge help to keeping weight off. Unfortunately, metabolisms slow down as we age. A slow metabolism means that the foods that you eat don't get used up for energy, instead, they get stored as fat. How do you combat it? Eat more. Wait, wait. Before you run out and start feasting, the key is to eat more small meals and healthy snacks. This will keep your metabolism on track. When you wait long periods of time, like between lunch and dinner, your metabolism naturally slows down a bit. So doing what's called grazing can be quite effective.
Have a small breakfast after you wake up, along with a glass of water. An hour or so later, eat a light snack, like almonds, along with a glass of water. An hour or so later, eat a healthy lunch, along with a glass of water. Do this throughout the day, making healthy choices in small quantities, along with water, and you'll feel less hungry while keeping your metabolism working hard.
Conclusion
Dieting is great in theory. However, making sure that your doing your research and speaking with your doctor before jumping in to a fad diet will ensure that you lose weight and keep it off effectively, but it will also ensure that you don't spend unnecessary money on what it, essentially, snake oil. Be well.
Bonaventure Senior Living
At Bonaventure Senior Living, we have Retirement Perfected, Living Perfected, Dining Perfected, and Fitness Perfected.  The best way to see for yourself is to Book-A-Tour today and discover how you can live life on your own terms. We specialize in Independent Living, Assisted Living, and Memory Care, that way, no matter what your current situation is, we have all levels of care covered if your needs ever change.
Independent Living
With Independent Living, we want you to enjoy Simplified Living, allowing you to have the freedom to do what makes you happy. Our Independent Living is designed to accommodate the exceptional senior lifestyle that you've earned. What's even better, is that with Independent Living we offer whatever supportive services that you may need at any time you may need them. Now that's Retirement Perfected.
Assisted Living
Assisted Living at Bonaventure Senior Living is simple: all the lifestyle benefits of our Independent Living, but with any extra support that you may need. Our philosophy is based on three simple things: choice, independence, and dignity. Now that's Assisted Living at its finest.
Memory Care
Every senior is a unique person, and our Memory Care approach is no different. We tailor our Memory Care by connecting with family members and taking time to understand each person's specific circumstances. This includes mental, emotional, and physical health. Our Memory Care creates an honorable and professional plan to make sure that each person lives their life to the fullest. That's the way Memory Care should be.