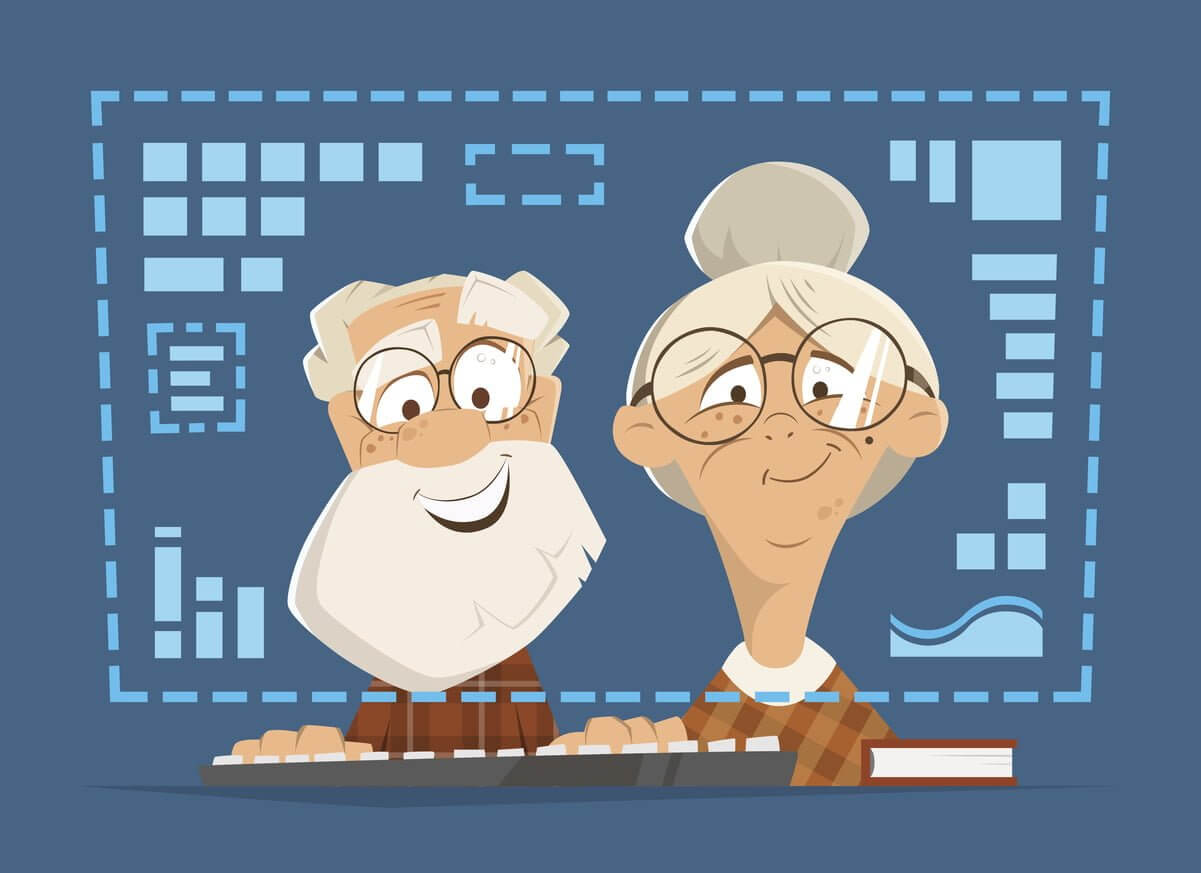 62% of Seniors Are Using Social Media
A 2016 study by the Pew Research Center concluded that 62% of seniors age 65 and older are using Facebook. That number is expected to continue to rise as seniors are the fastest growing demographic on social media sites, especially Facebook.
Retirement allows seniors to have the time to enjoy life. A lot of these seniors are using this opportunity to stay in touch with their family. Gone are the days where just a visit, letter, or phone call provided the only means to staying in touch. Now, those wanting to stay in touch with their families can do so by simply signing up for various social media accounts, like Facebook, Instagram, and Twitter.
Social Media Benefits for Seniors
Stay in Touch – The biggest, and most obvious reason seniors should have a social media account is to stay in touch with family. Facebook users post between one and five times a day. This includes text posts, photos, and videos. This will give those in the height of their retirement a peek into the lives of their family where they may not otherwise have been able to.
Reconnecting – Distance and lost connections with those that are cared about can be easily remedied with social media. Seniors can simply search for their friends and family that they may have lost contact with and reconnect. Seniors may be able to find their college roommates, old friends from childhood, and more. With retirement, seniors have the time. With social media, seniors have the means.
Businesses – Nine out of ten businesses are on social media sites, like Facebook. Brands seniors enjoy can be easily searched and "Liked". This allows seniors to not only ask questions about brands they love, but also take advantage of special promotions that are only available on social media sites.
Share Their Stories – Seniors have amazing stories. They've lived long, full lives and have something wonderful to share with the world. Their retirement allows them the time to share their stories and social media gives them a platform.
Learning – There are many social media pages that can allow seniors to learn and grow their knowledge of the topics that mean something to them. There's so much information available that lifelong learning is a reality far more present than ever before.
Hobbies – Speaking of learning, with lots of time in their retirement, seniors are going to want something to do. Let's say they want to learn a little about painting. All one must do is type learn painting into the Facebook search bar and tons of options appear. This can be done with any hobby that a senior is interested in learning about.
Social Media Tips For Seniors
CAPS LOCK may be a bold way to say something, but on the internet, specifically social media, it means that you are yelling. It's often perceived as angry. Unless you mean to, it's better to just leave it off.
Tagging – Tagging someone in a post, photo, or video is a great way for not only them to see what you've posted, but also all the friends on their friends list. You'll want to make sure that they want to be tagged in things before tagging them. If it's a photo or video, make sure that they're in the photo or video before tagging them. Although, this can be a rule that's void if you're tagging someone in something they may be interested in, like a recipe. Tagging someone is easy: Type the symbol @ and then begin to type their name. When you see it pop up click on it. Now they're tagged. In a photo the same can be applied in the post section of the photo, or, on the photo itself, there's a symbol that looks like a price-tag. Click that and search for the person you want to tag.
Emoji's – These are small cartoon-like pictures that can replace words. There are a lot of them, from smiley faces to vegetables. They can be used to convey a message without writing words, just make sure you don't overuse them or your meaning may be confusing.
Hashtags (#) – Hashtags are everywhere nowadays and have significant importance. They are a way of categorizing a topic. Think of it like a file cabinet: If you write about retirement and use #retirement, then anyone that is looking at that hashtag will see your post. It's a great way to not only let people see your posts, but to also discover many different posts. Again, only use appropriate hashtags that are relevant to the topic.
Safety – Online privacy is a concern no matter how safe the website you're visiting is. The best way to keep your information safe is to simply not share it. Never give out your social security number to anyone online. Make sure if you do any online purchasing, you're using a trusted website, like Amazon. A good rule is that if it seems unsafe, it probably is.
Conclusion
No matter how you socialize, you'll find that online social media has many perks for seniors. Retirement offers lots of time to discover family, friends, businesses, hobbies, and more. Social media can allows for all of that to take place in one, easy-to-use format. We hope that all seniors can make good use of social media to connect with those they love. Be safe and be well.
Take this opportunity to visit Bonaventure Senior Living's social media pages. Don't forget to "Like" and "Follow" us for exciting articles, photos, videos, and more.
Facebook: https://www.facebook.com/livebonaventure/
Instagram: https://www.instagram.com/livebonaventure/
Twitter: https://twitter.com/livebonaventure
Bonaventure Senior Living
At Bonaventure Senior Living, we have Retirement Perfected, Living Perfected, Dining Perfected, and Fitness Perfected. The best way to see for yourself is to Book-A-Tour today and discover how you can live life on your own terms. We specialize in Independent Living, Assisted Living, and Memory Care, that way, no matter what your current situation is, we have all levels of care covered if your needs ever change.
Independent Living
With Independent Living, we want you to enjoy Simplified Living, allowing you to have the freedom to do what makes you happy. Our Independent Living is designed to accommodate the exceptional senior lifestyle that you've earned. What's even better, is that with Independent Living we offer whatever supportive services that you may need at any time you may need them. Now that's Retirement Perfected.
Assisted Living
Assisted Living at Bonaventure Senior Living is simple: all the lifestyle benefits of our Independent Living, but with any extra support that you may need. Our philosophy is based on three simple things: choice, independence, and dignity. Now that's Assisted Living at its finest.
Memory Care
Every senior is a unique person, and our Memory Care approach is no different. We tailor our Memory Care by connecting with family members and taking time to understand each person's specific circumstances. This includes mental, emotional, and physical health. Our Memory Care creates an honorable and professional plan to make sure that each person lives their life to the fullest. That's the way Memory Care should be.