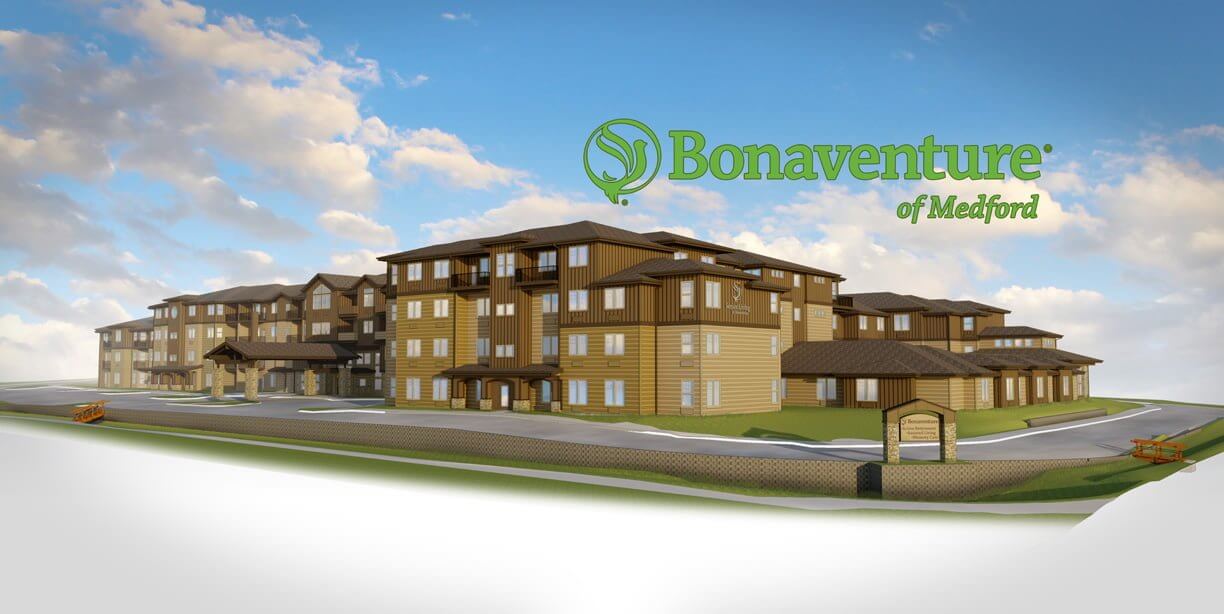 This fall, Bonaventure Senior Living opens its new Medford Community. The luxury Senior Living Community will include 147 suites and feature an on-site movie theater, fitness center, three dining rooms, a bistro and even a bowling alley!
Multiple levels of care will be offered under one roof: Bonaventure of Medford will have 69 Independent Living Suites, 55 Assisted Living Suites and 23 Memory Care Suites.
All About Family
At Bonaventure of Medford, the resounding theme is family, as well as quality and continuum of care. When you visit the community, you will see the Bonaventure difference. Debbie Vick, Executive Director, and Mandy Shelton, Assistant Executive Director, are local to Rogue Valley and have had a mentor/mentee relationship for three years. As Mandy expresses, "I choose Bonaventure because I have firsthand witnessed Retirement Perfected™. I have never been more welcomed and supported for my thoughts and ideas, and it's so nice to see CEO Kelley Hamilton being an active member of the team and coming out to offer support and encouragement. Debbie has been a mentor for me for almost three years, and I believe in her leadership and where it's going to take Bonaventure of Medford." For the team at Bonaventure of Medford, their dream is to discover the dreams of their residents and resident families and make them come true to the best of their abilities.
Continuum of Care
The community's configura­tion allows seniors to make a home for themselves now, regard­less of the type of care they need, and will allow them to remain in the community as their future needs change. The design eases transitions when peo­ple's care needs change. Residents can stay in the same building with the same group of friends as they tran­sition from Independent to Assisted Living. It also enables couples with different care needs to live under the same roof. Executive Director Debbie Vick explains, "We are designed and built for continuum of care. The residents are our family, and we offer them the lifestyle they're accustomed to and the peace-of-mind of continuum of care." Debbie has been a caregiver all of her life, privately and professionally, and it is truly her life's passion.
Enriched Lifestyle
"Here in our community, we are emotionally invested in the lives of our residents and their families. We see to it that not only are their needs met, but also that they enjoy a lifestyle that allows them to thrive. Everyone needs someone to care, someone to make that difference, and it is absolutely life-changing. When we're happier, we're healthier. I believe in my calling, and I believe in Bonaventure. The love we have for what we do shines through in every aspect of our lives. Bonaventure is a dream come true for me, and we will make it a dream come true for our residents."
Residents will be greeted with a schedule that includes a minimum of 16 activities per day. Many are activities that are offered at all of Bonaventure's commu­nities, while others will be unique to the Medford community. There will be so much going on that residents will be able to fill each day with some­thing enjoyable and worth­while. When asked about her approach to activities, Debbie smiled and confidently said, "When it comes to activities, I don't ask 'why?' I ask, 'why not?'" Will we have BINGO? Absolutely! But our residents want high quality, premier activities as well, and that's exactly what we're going to give them. There will be outings to Seven Feathers, tours of the coast and trips to wineries. Residents want overnight trips, and I say 'why not?' If we can do it, we should. Bonaventure of Medford is home, and we will prove that to our residents every single day."
Dining also plays a big role. From the start, there will be an "Always Available" menu – giving residents a va­riety of meal options that go beyond the daily and weekly specials. Optional meals will be served from 7 AM to 7 PM, allowing residents free­dom to dine on their own schedules. Discussing dining, Debbie animatedly addressed the fact that "our residents don't want a cook. They want a chef, and a chef is what they will have because not only do people want to live here, but top-notch professionals are clamoring to transition to Bonaventure or even begin their careers with us before the doors even open. People want to live here, and people want to work here because serving seniors is their passion."
Retirement Perfected™ is Driven by Heart
These are no empty claims: Medford local Melody White has two family members eagerly anticipating their move to Bonaventure. Melody is an attentive and passionate advocate of the care her family receives, and she explained that "in talking with Eric and Debbie, they are very caring people. We are looking forward to the increased quality of care my family will receive with their move to
Bonaventure of Medford." Melody adds that they are also "looking forward to having a lot more things to do and are excited about having an actual chef and restaurant-quality food. They both like to do crafts and are eager about the bowling alley. We are so excited about the variety and gentle encouragement they will receive at Bonaventure. We're even looking forward to the high quality maintenance team, which is something that is too often overlooked elsewhere."
Bonaventure of Medford is all about heart, and future residents know it. Eric Wood, Sales Manager, expresses that "you can tell when there's heart in a community, and it starts from the top. Yes, we are a business, but it is about people. You cannot commodify human beings, and the places that do are not successful. When people come here, they do so because they know we care. They can feel the heart in Bonaventure, and that makes all the difference. We are not a facility; we are a community. And in a community, we promote dignity, choice and independence."
Come and see the Bonaventure difference and learn what Retirement Perfected™ really means. Suites are filling rapidly, but there's still room for new residents. Anyone interested in learning more or scheduling a hard-hat tour can call 541-930-8750 or visit our website for more information.